Six hundred dollars is an important step in the world of mountain bikes; this is where you can buy a bike that is ready to take out on real mountain bike trails. At this price point, bikes start to be available from some of the big name brands, and the value brands start to offer some of the features that make a modern mountain bike perform.
Features you can expect for under $650
Strong and reliable fork that can handle use on trails
Disc brakes (the best bikes in this price range will have hydraulic brakes)
Aluminum frames
Tires with quality rubber compounds and tread patterns
Trail capable drivetrains (derailleur, chain, gears, shifters)
Features you won't find in a $600 mountain bike
Lightweight – bikes in this list are likely to weigh 28-32 lbs / 13.5-15 kilos
Air fork with fine adjustments
1x drivetrains – this one is starting to show up, but many good bikes at this range still have a front derailleur
All mountain trail tires – most bikes in this range have lightweight "XC" tires
Dropper post
Price: $629
Trek has been designing and producing great bikes for a very long time and know what works for riders. The Marlin 4 is everything you expect in a mountain bike to get you out on the trail; solid components, modern frame geometry and good looks. It isn't the cheapest option on this list, but you know exactly what you are getting, and have a solid company standing behind it.
Pros:
Fun and easy to ride
Solid Shimano and Tektro components
Excellent Bontrager tires
Order online, have it assembled by professional mechanics at a local shop
Cons:
All entry level component options (e.g. mechanical brakes, 3x drivetrain, coil fork)
Limits to upgradeability
Heavy – 31 lbs / 14.1 kilos
Where to buy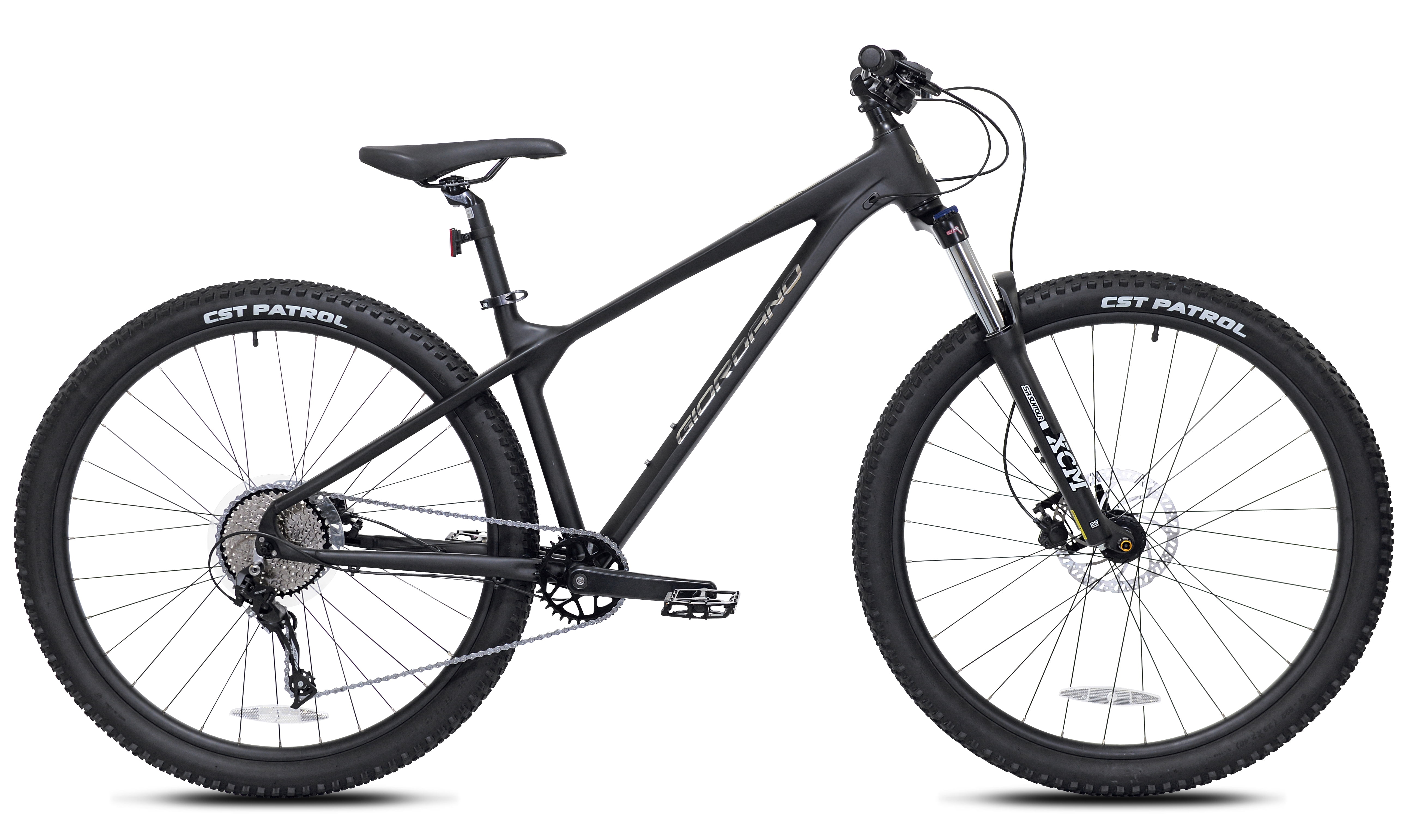 Price: $649
The Giordano Intrepid is one of the most expensive mountain bikes you can get from Walmart. The formed frame,
Pros:
1x drivetrain
Hydraulic disc brakes
Beautiful hydro formed frame
Higher spec Suntour fork than others at this price
Aggressive trail frame geometry
Cons:
Assembly isn't consistent
Derailleur lacks clutch – users report chain issues
Heavy fork
Where to buy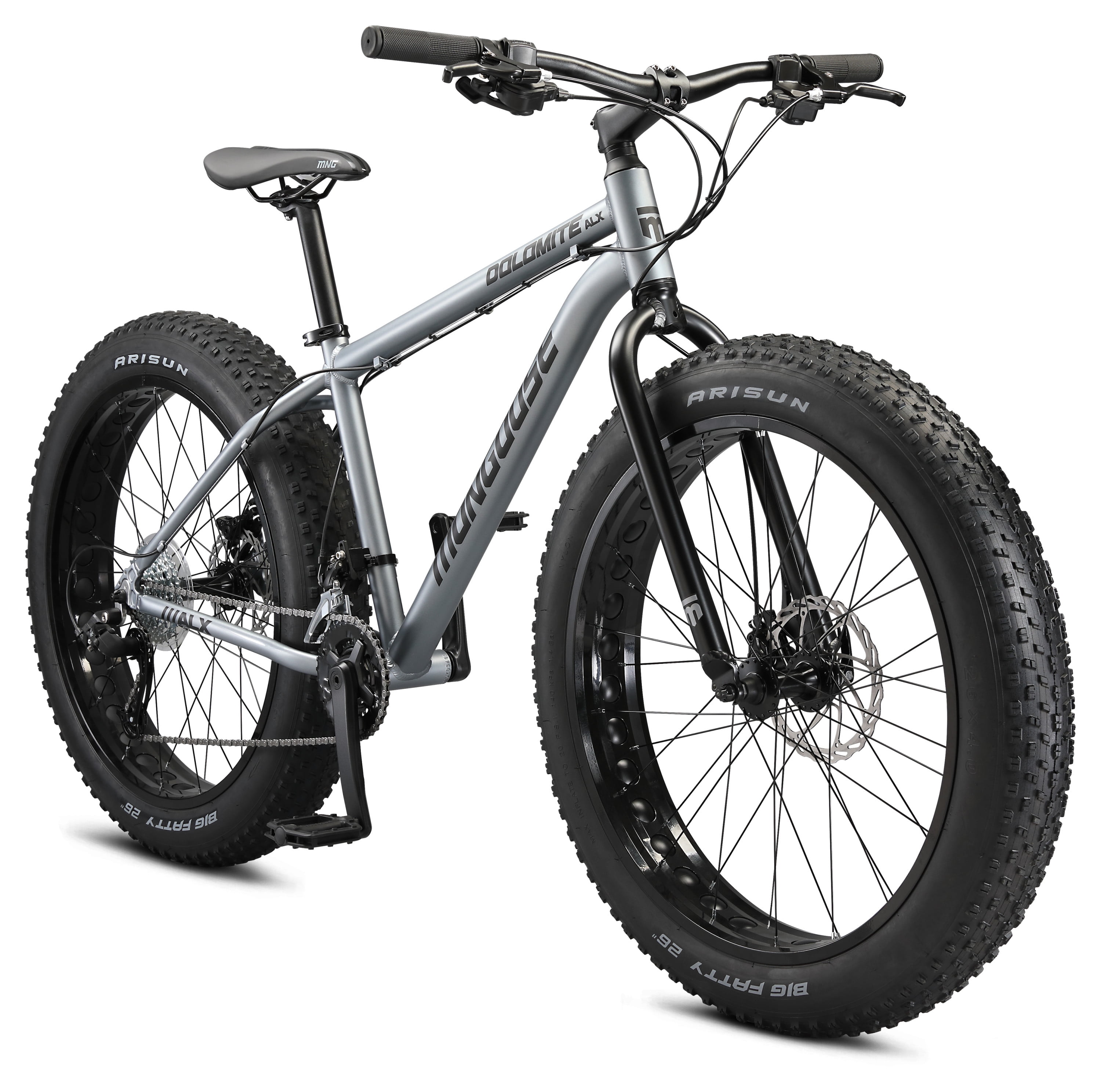 Image Source: https://www.walmart.com
The Mongoose Dolomite ALX is a fat bike, which uses cushy big tires instead of complicated and expensive suspension shocks to make for a smooth ride over bumps. The wide tires also allow you to ride on top of sand and snow.
The Dolomite ALX has some pretty basic components, and is very heavy compared to the other bikes listed here. However, you get something completely different, and this is the cheapest fat tire bike with an aluminum frame and quality components that we could find.
Where to buy:
Marin Palisades Trail 2
Price: $799 (currently available for $500-$600)
Marin has a long-standing reputation for making fun trail bikes. The Palisades Trail 2 gets great reviews for how it rides, and has a level of components that is hard to beat. The MSRP on this bike is well above the $650 limit for this roundup, but it seems to be available for less from multiple retailers.
The Marin Palisades Trail 2 has modern geometry, and is fairly "slack" for downhill stability. The tires are genuinely trail capable and very well regarded for their grip when pushed. The RockShox fork is still a coil spring, rather than air, which is the same as everything at this level, but it is a step up from the others we find at this level. The hydraulic brakes are another plus that most bikes from big makers don't offer for this price range.
Pros:
Well designed and made
Solid Shimano and Tektro components
Hydraulic brakes
Excellent WTB Trail Boss tires
Cons:
Heavy and basic components (e.g. 2x drivetrain, coil fork)
Where to buy