If you are on a budget, Walmart mountain bikes are one of the affordable options to consider.  They have features and components that are more than enough to get you out on the trail. The key is to know what to look for.
Finding Your Perfect Mountain Bike
There are a few things to keep in mind when shopping for a Walmart mountain bike. First, take note of the frame size and frame material. Aluminum frames are both lightweight and sturdy. Avoid steel frames, except for in the smallest, cheapest kids bikes (and even there, aluminum is better if you can find it).
Second, look for bikes with front suspension (the "fork" that holds the front wheel) only, and avoid the ones with rear shocks/springs.  Both front and rear, "full suspension" adds a lot of complexity and extra parts, which at Walmart prices are mean too much that can go wrong.
Thirdly, keep in mind that many models of the Walmart mountain bikes require assembling. Therefore, you should ask yourself how confident you are when it comes to putting things together. It can be a fun activity, but can also be a technical challenge.
If you get your Walmart bike assembled from a store, or partly assembled and shipped to you, there may be some further work to do.  People frequently report that items aren't installed properly.  A small amount of bicycle maintenance knowledge may be enough for you to fix these yourself, or you may need to plan on paying a bit more for a tune up at a local bike shop.
The best mountain bikes from Walmart: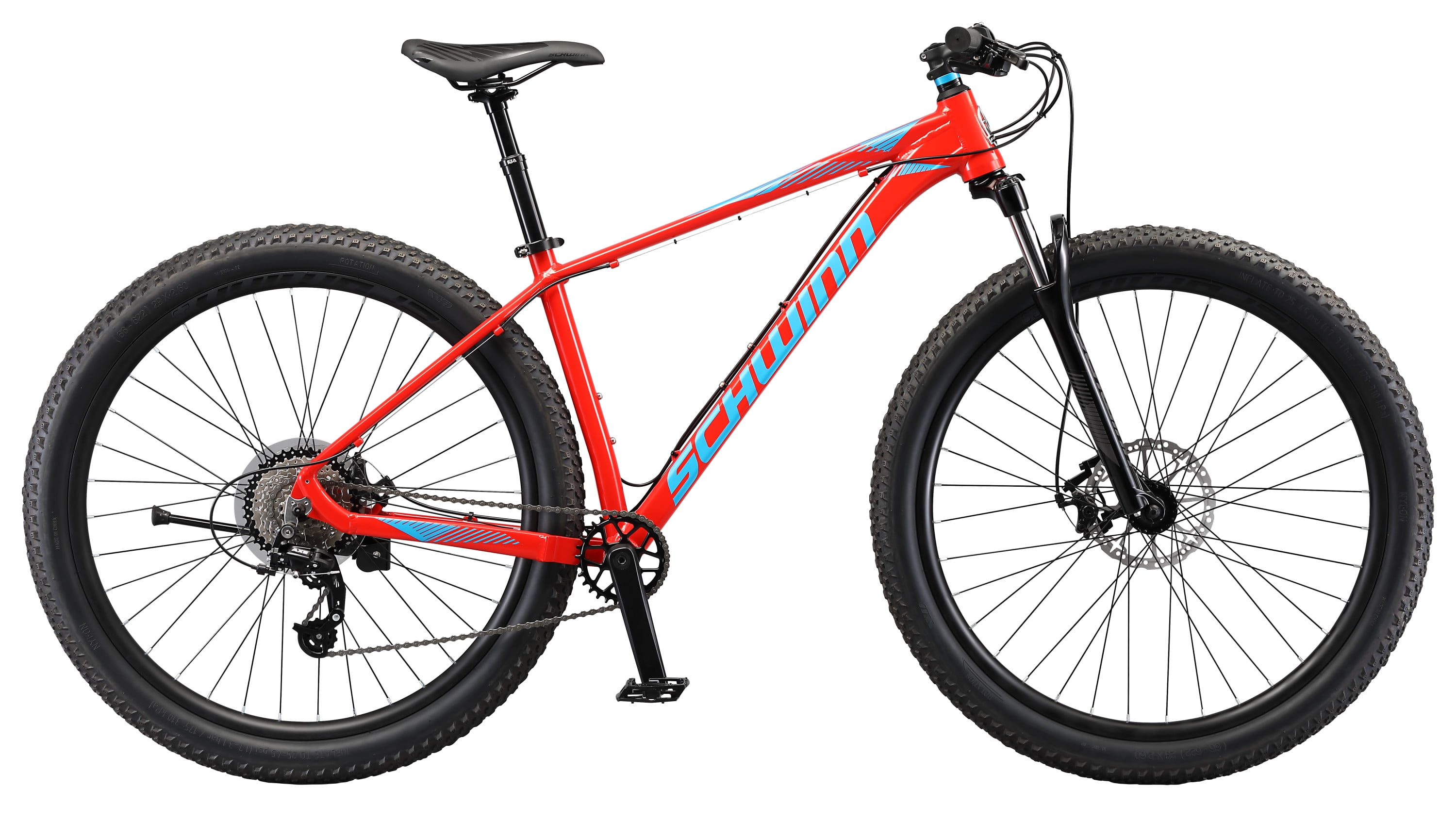 Category
Features
The Schwinn Axum has generated a lot of attention as one of the best values in mountain biking.  If you actually plan to get into mountain biking and riding beyond beginner trails (and the size fits), this is the bike for you.   The bike features a 1×8 drivetrain, which means only 8 speeds, but spread over a wider range to give you options without complexity.
The Axum is more upgradeable than the less expensive Schwinn Boundary which could allow the bike to grow in capabilities as you take on more challenging mountain biking.   As it comes, it is a capable bike for gravel roads, dirt paths, and some light mountain bike trail use.
Pros
Well made aluminum frame that is designed for trail riding
Comes in multiple sizes
Simple 1x gearing system
Wide tires for a wide range of conditions (especially mud)
Good platform for upgrades
Dropper post included
Cons
Heavy fork
Limited gearing range will make hilly rides difficult
Only comes in one size
Non-clutch derailleur
Where to buy
Note – The previous version is available from Walmart.com.   We feel it is worth making sure you get the new one.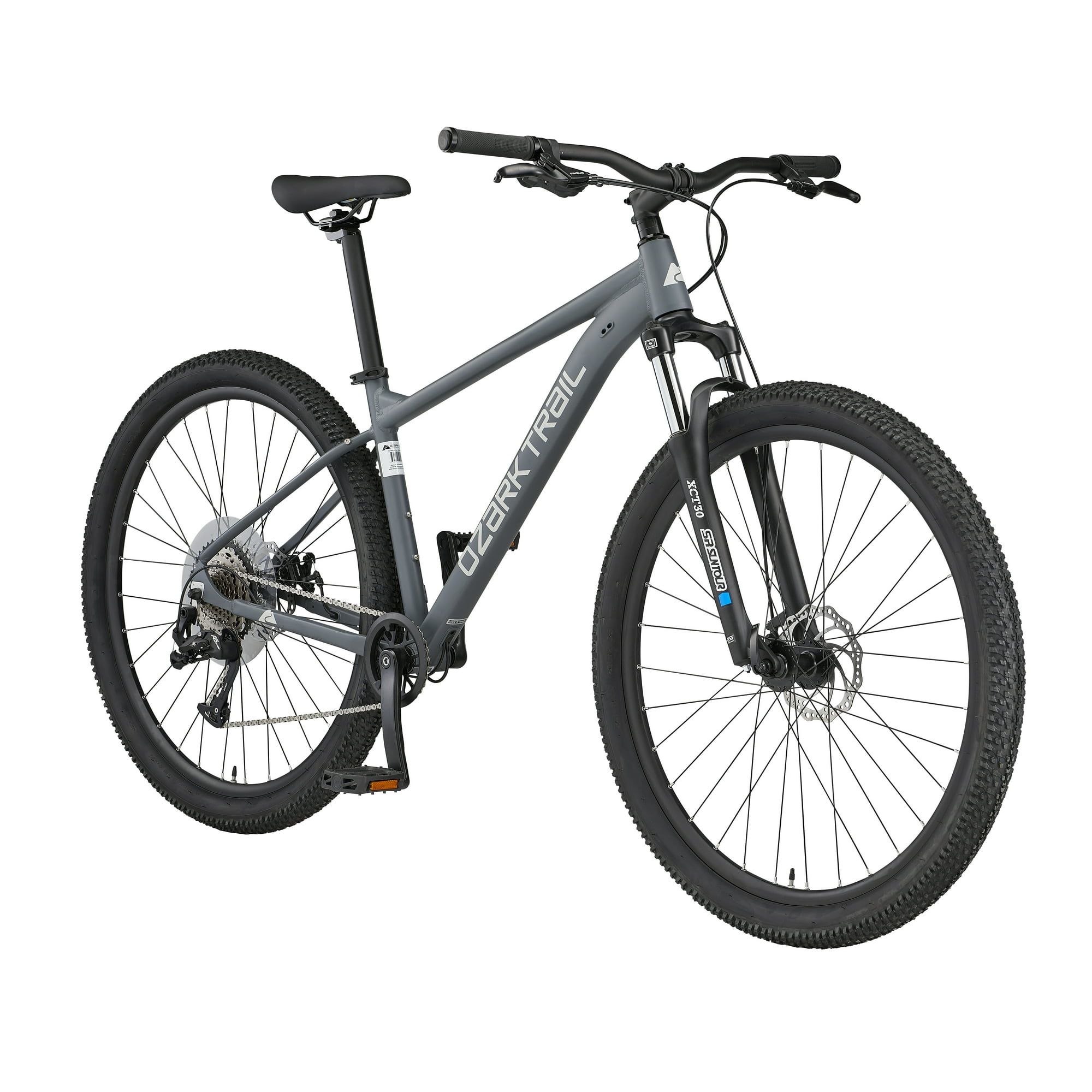 Walmart's new store brand for outdoor products, Ozark Trail, includes an entry level mountain bike that is capable of getting you out on real trails.  It includes disc brakes, a 1×9 powertrain and frame geometry that should make fast downhills more stable.
Pros
Modern trail frame geometry
Internal cable routing
1×9 drivetrain
Quality tires
Cons
Heavy and limited fork
No clutch or tension adjuster on derailleur
Where to buy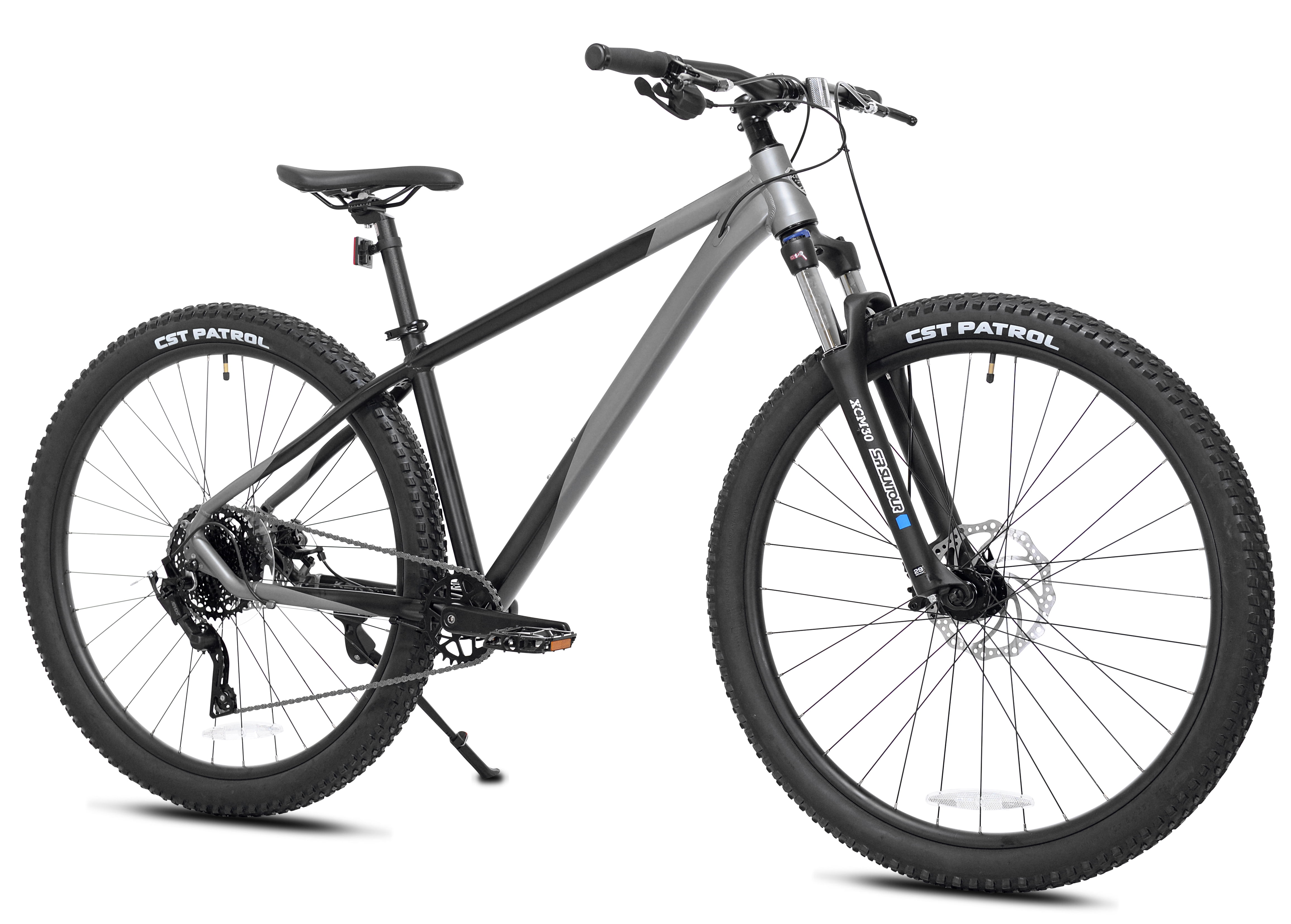 This bike has developed quite a following and you can find plenty of reviews on YouTube and elsewhere.  It is frequently out of stock, but Walmart has them right now.  At $399, it is probably the best value in a true mountain bike from Walmart.  It features an aluminum frame with internal routing for cables, a Suntour XCM suspension fork (a higher spec than on many $600+ bikes), disc brakes, and good tires from CST.
Pros
Bike geometry that positions you for trail riding
Quality aluminum frame
Internally routed cables
Easy to upgrade
Cons
Derailleur doesn't have a clutch, causing the chain to come off easily on rough terrain
Mechanical, instead of hydraulic, brakes
Many buyers report assembly problems, requiring skills or a bike shop to fix
Non-standard seat post, making installing a dropper difficult
Only comes in one size (smallish-medium – should fit well for people from 5'6" to 5'11")
Where to buy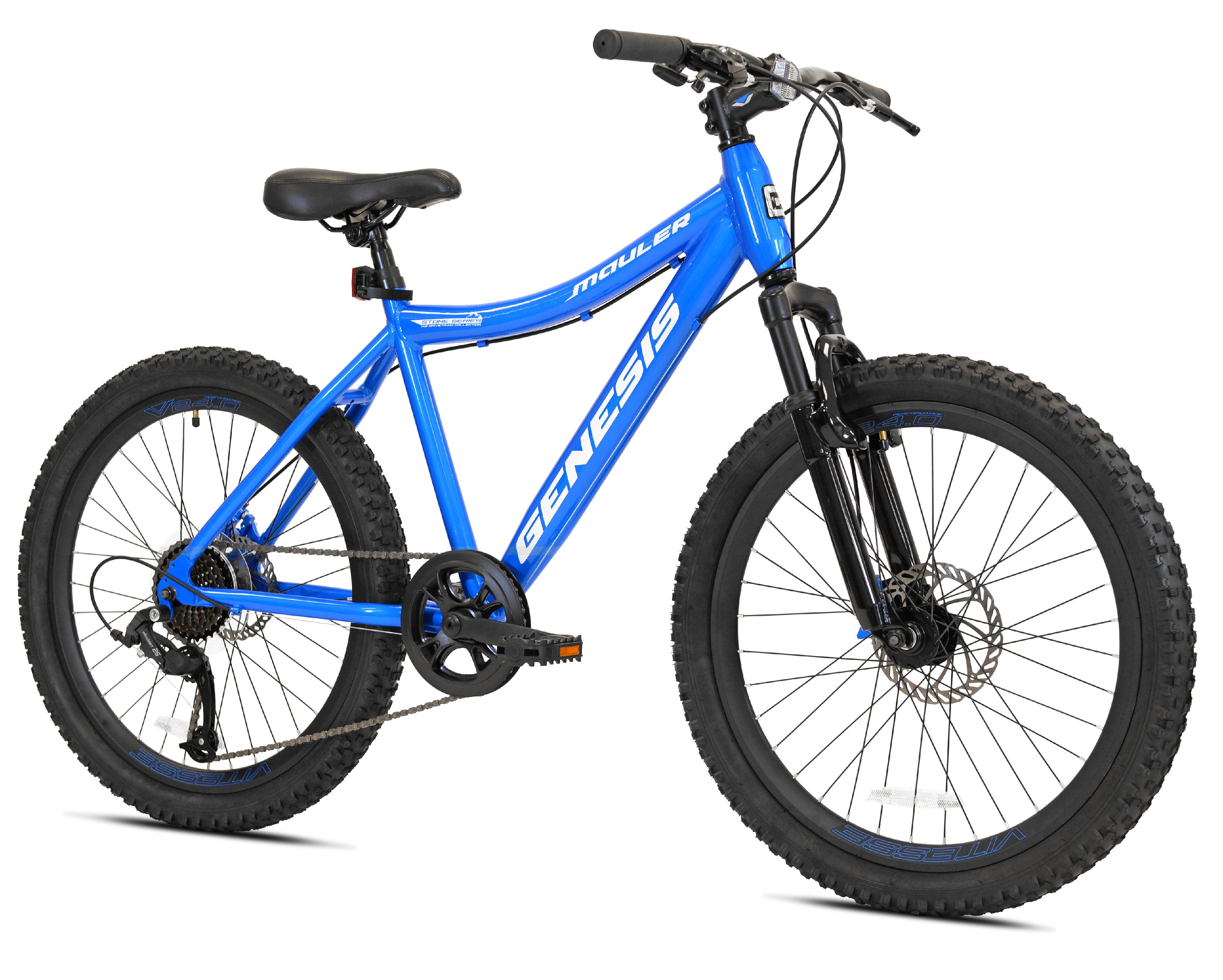 Category
Features
The 24 inch Genesis Messina (girls) and Mauler (boys) is a great bike for a very good price.  There are very few affordable kids bikes with aluminum frames, which means kids are often stuck with heavy, hard to move bikes.  The Genisis Messina/Mauler is the exception.
The Messina features disc brakes, quality Microshift components, and trigger shifters.  Assembly might be an issue if you aren't so inclined, but doing it yourself should mean it is done well.
Pros
Lightweight aluminum frame
Microshift components
Disc brakes
Cons
Requires significant assembly
Heavy components detract from light frame
Cheap suspension fork ads weight without much advantage
Price
Where to Buy
Warranty
Limited lifetime warranty on frame and fork. 12 month warranty on all other parts. Excluding wear and tear items.
Category
Features
The Hiland Mountain Bikes take advantage of some well regarded new component makers to produce an affordable bike that should be reliable and capable of riding a variety of paths and light trails.
Unlike other bikes on this list, the Hyland bikes come in multiple sizes, which means there is an option for everyone.
Pros
Lightweight aluminum frame
Multiple sizes for shorter women and men (as well as taller)
Affordable, but quality components
Cons
Not rated for rougher trails
Some unknown branded parts
Some buyers report poor packaging and parts damaged in shipping
Where to Buy
Category
Features
The Schwinn Central Hybrid is a solid option for getting out and enjoying cycling.  It isn't set up for mountain biking, but the aluminum frame and Shimano drivetrain will allow you to ride rougher roads and smoother off-road paths.
Pros
Aluminum frame
Rides comfortably
Comes with fenders and cargo rack
Cons
One size for all (fairly small), won't fit everyone
Requires assembly
Sold on Walmart.com by a 3rd party vendor, so no local store support
Relatively heavy
Where to Buy
Walmart:  Mens Schwinn Central $319
Warranty
The 700c Schwinn DSB Hybrid Bikes come with a lifetime warranty.
Category
Features
The Giordano Intrepid is the current king of the mountain bikes available at Walmart.  It features a formed frame, similar to $1000+ name brand bikes and a set of components that should prove very capable on cross country ("xc") mountain bike trails.
The components on this bike, especially the more expensive ones to replace are a significant step up from the Schwinn Exum and Kent Travaille.  Those include the Suntour 120mm XCM fork and the CST tires.
The Giordano Intrepid only comes in one size; medium.  This should fit a wide range of people, but not as wide as Kent claims.  They say 5'6″ and up; we would recommend it for those 5'7″ to 6′, depending on what feel you like in a bike.
Pros
Quality, trail capable components
Beautifully made frame with no weld joints
Modern slack geometry
1×10 drivetrain offers the most range of any Walmart bike
120mm travel fork will soak up more bumps
Cons
No dropper post
Non-clutch derailleur means chain slap or coming off
At this price, it would be nice to have professional assembly
Only comes in one size
Where to Buy
What Walmart Mountain Bike is Best?
Each of the mountain bikes listed above should be a great bike for the right rider.  Matching the bike to your size and the type of riding you plan to do, should yield a mountain bike you can really enjoy.
With all bikes from Walmart or any other big store, you will need to check them over carefully and ensure that they are properly assembled and functioning well.  To be safe, any bike should be checked over by an experienced bicycle mechanic before riding.
How We Reviewed
The following products were reviewed based on the following parameters: Features, Pros & Cons, Price, Where to Buy, and Warranty. Features are essential in our reviewing process because they tell us what type of suspension and braking system the bike has, in addition to derailleurs and braking mechanisms. Looking at the pros and cons, we were able to ultimately learn how well each feature responds in real life, while price lets us know how much value these Walmart mountain bikes have. The Where to Buy section offers you an immediate gateway to your desired product. Finally, the warranty section helps you evaluate the risks you are taking with the purchase on a long-term view.
Walmart Mountain Bikes: Product FAQ
1. What Is a Mountain Bike?
The mountain bike is a type of bike that is specifically designed to be used on trails and other rugged terrains. More specifically, on the ground that is not paved or flat, but one on which one could easily slip or trip. For example in the woods, you would need a special bike to traverse the dirty tracks covered in wet leaves and uncovered roots that are poking through.
2. What Does a Mountain Bike Do?
Mountain bikes are used for riding on trails and other rugged terrains. In general on grounds that are slightly more difficult to ride through than the usual concrete pavements.
3. How Does a Mountain Bike Work?
Mountain bikes feature a sturdy frame, special suspension systems, heavily treaded tires for riding on rugged terrains. All these features and more ensure safe and smooth rides on terrain that can be sometimes tricky to even walk on. A Mountain Bike transforms the experience of riding your bike on the flat ground to a higher degree. It levels it to an extreme sport fueled with adrenaline.
4. Where Can You Buy It/Them?
You can buy Walmart mountain bikes at your local Walmart retailer, or online at Walmart.com or Amazon.com. Not so sure how to go about your purchase? Don`t miss the chance to check out our quick and handy guide on how to shop for your bike and its accessories.