Image Source:www.bcbikerace.com
Since 1981, the Rocky Mountain brand has been delivering high-performance mountain bikes from its innovative Rocky Mountain Development Center at the base of Vancouver's North Shore mountains. With some of the world's most rugged and diverse terrain, the North Shore mountains make for an ideal location to design and test some of the most advanced mountain bikes on the market. As a Canadian manufacturer born within the rugged mountains of British Columbia, Rocky Mountain offers a wide range of bicycle models that can be tailored to a variety of different riding styles and disciplines that fall under the mountain category. There are over 30 unique models of Rocky Mountain bikes, ranging from full-suspension downhill bikes to versatile hard-tail cross country bikes. From local trail rides to extended backcountry adventures, Rocky Mountain bikes offer the capability and reliability to deliver an exceptional ride. For the 2017 model year, the top Rocky Mountain bikes fall within the XC, Trail, Enduro, Downhill and Sport biking categories.
2017 Rocky Mountain Vertex
Image Source:www.bikes.com
When it comes to spirited cross country riding, the 2017 Rocky Mountain Vertex is a hardtail that offers incredible rollover performance and climbing traction. Its aggressive geometry is confident both around the race course and through technical terrain and sharp corners. With 100mm travel and 29-inch tires, the new Vertex was built to cruise through cross country races with ease. Moreover, the available Vertex RSL models offer an ultralight Smoothwall carbon frame, making it the best choice for weekend backcountry adventurers and World Cup racers. The Smoothwall carbon frame is unique because it offers a stiffness-to-weight ratio that can't be matched by its competitors.
2017 Rocky Mountain Element
Image Source:www.pinkbike.com
The newly-upgraded 2017 Rocky Mountain Element boasts design features that have been perfected over the past two decades. The Rocky Mountain Element now offers increased suspension performance, a unique ride-9 adjustability feature, refined marathon geometry and room for two water bottles within the spacious front triangle. This cross country mountain bike provides unrivaled speed and point-n-shoot rigidly that contributes to its nimble sense of handling. The light and stiff Smoothwall carbon frame works efficiently with a new Smoothlink suspension system and contemporary 29er geometry. The all-new Element would be ideal for marathon stage races.
2017 Rocky Mountain Pipeline
Image Source:www.crankjoy.com
For those who crave a trail riding adventure, the 2017 Rocky Mountain Pipeline may be the ideal choice. The 2017 Pipeline features aggressive trail chassis and plus-sized tires that can effortlessly tackle difficult terrain. While providing abundant traction on slippery slopes and over steep terrain, the Pipeline also powers through greasy root systems with its rugged 27.5 plus tires. With 150mm of front travel and 130mm of rear travel, the Pipeline was truly built for an aggressive trail riding experience. Some unique features include a Smoothwall carbon front triangle, a Stealth dropper post, internal cable routing, lightweight bolt-on axles and BC2 pivots that provide grease ports for simple maintenance.
2017 Rocky Mountain Slayer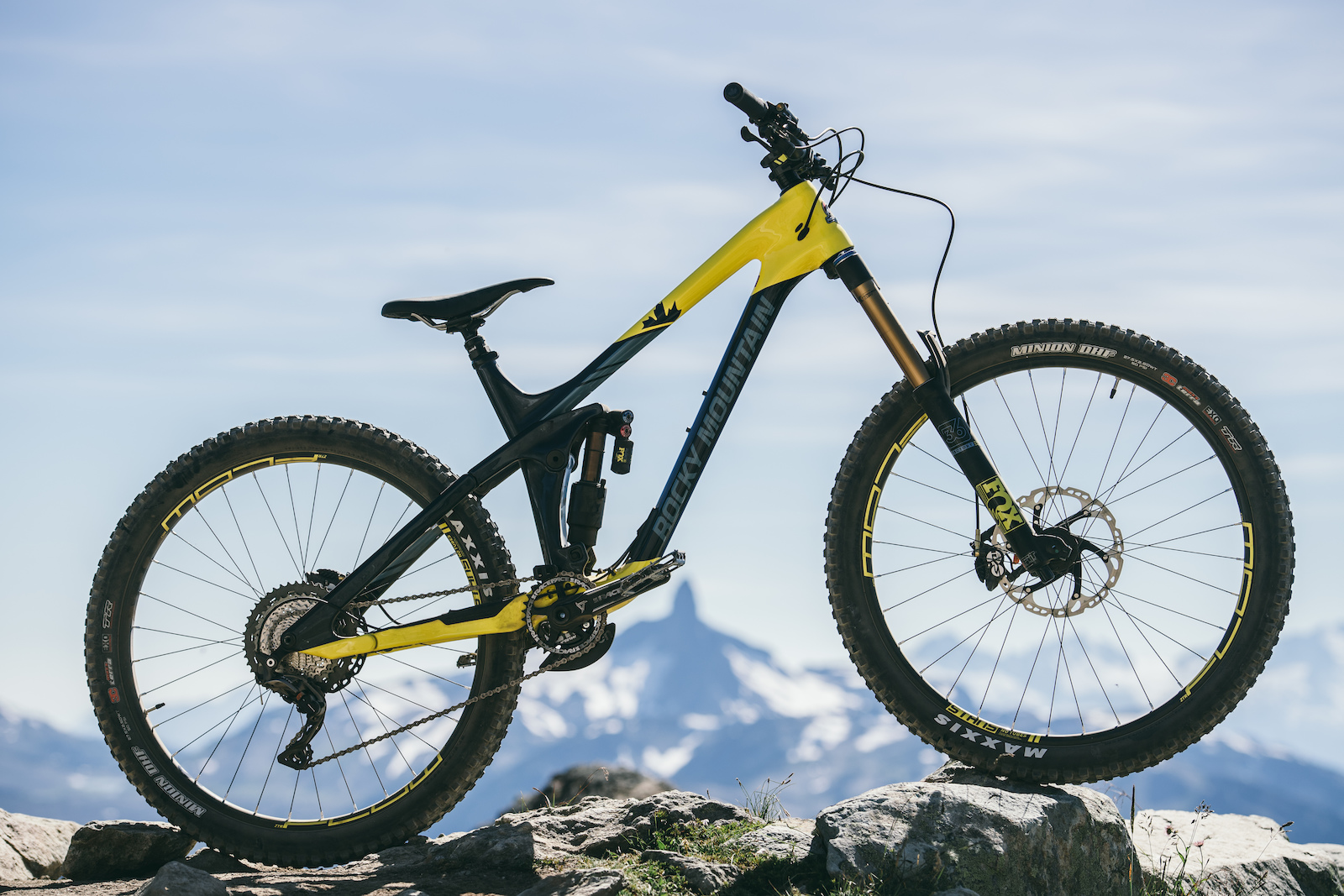 Image Source:www.pinkbike.com
The 2017 Rocky Mountain Slayer is an Enduro bike that was designed to slay the world's most rugged and technical terrains. This full-suspension mountain bike boasts an all-carbon frame that can tackle bike park laps and Enduro World Series tracks with ease. The Slayer's unique pedaling responsiveness and premium downhill-bike capability are matched with an extra bit of travel to gain more speed while traveling over rugged terrain and down steep slopes. The Slayer provides 170mm of front travel as well as 166mm of rear travel, which pairs nicely with its standard 27.5-inch tires.
2017 Rocky Mountain Maiden
Image Source:www.bikes.com
The bold 2017 Rocky Mountain Maiden was designed to perform at World Cup downhill races and through big mountain freeriding. After an extended four-year development phase, Rocky Mountain engineers have finally released the 2017 Maiden. The Maiden features cutting-edge technology with an advanced all-carbon frame. It offers efficient peddling and increased braking control with its Equalized wheel system that provides both 27.5″ or 26″ wheels. For precise geometry adjustments, Rocky Mountain's Ride-4 technology has been installed. This premium downhill bike has been designed with 200mm of front and rear travel for optimal comfort and precision when cruising down hills. Unique features include a four-bar Smoothlink suspension system, pipe lock collet axles, integrated frame protection technology, internal cable and brake routing, large Enduro MAX type bearings and 157mm axle spacing.
2017 Rocky Mountain Growler
Image Source:www.bikes.com
When it comes to versatile Sport biking, the 2017 Rocky Mountain Growler takes advantage of its high-volume 27.5-inch plus tires for a capable and confident ride. The new Growler has been designed to enhance traction and stability while also offering intuitive handling and aggressive styling that will makes heads turn when riding through backcountry trails. Overall, the Growler provides a playful ride that would be ideal for anyone looking for a smooth and confident trail riding experience.