No products found.
One of the best parts of owning a bike is that it allows you to journey farther and explore new places. Taking a bottle of water, a can of air and a pocket full of snacks with you may suffice for a casual bike ride. But if you enjoy spending all day on the trails, make sure that you take some cycling essentials with you.
In this blog post, we made a list of cycling essentials you should carry with you on long bike rides. The list may seem like an awful lot to carry, but these items are actually lightweight and can easily fit into a backpack. If you are someone who enjoys riding with a bunch of friends, then you don't have to carry a complete kit.
Having these things on hand can mean the difference between an enjoyable and frustrating adventure. Plus, it will ensure that you have everything you need to address the most common problems you may face.
First Aid Kit
Image Source:www.cycling4you.com
Mountain biking is a lot of fun, but it involves a lot of risks. You'll be out exploring remote areas and challenging yourself on the trails to progress your skills. In this type of sport, experiencing falls, getting bruises, scapes, and cuts are pretty normal.
Your first aid kit is one of those cycling essentials you should never leave behind. It should include some basic supplies such as a few alcohol pads, gloves, bandages of varying sizes, antibiotic cream, waterproof tape, aspirin or other painkillers, band-aids, Tegaderm, and a 1-day supply of any prescription medications you need to take. Regardless of where you're going or how long your ride is, always carry a first aid kit. You never know when you'll need it. It might just save the day.
Multi-Tool
Image Source: https://www.bikeradar.com
Multi-tools are one of those cycling essentials you should always have on hand. They are designed to carry out some of the most crucial bike repairs on the go.
Whether your chain breaks in the middle of the woods or you just need to make some adjustments on your mountain bike, a multi-tool will allow you to get the job done anytime, anywhere. Often, it includes a chain tool, Torx heads, screwdriver, and a range of Allen keys so you can easily adjust all of the important bolts on your bike. Without these tools in your bag or pocket, you may end up facing a long walk home.
If you're in the market for a multi-tool, try the Crank Brothers Pica, Lezyne Stainless 20 or Blackburn Toolmanator 3.
Mini-Pump  
Image Source: www.dirtmountainbike.com
Every cyclist owns a track pump. But when you're out on a bike, you want to bring the smallest one you can find. Luckily, there are lots of mini-pumps out there. Most of them can be attached to the frame of your bike, so there's no excuse not to bring them.
A flat tire can ruin a great day of biking. If you're riding solo and you get a flat, you need to find a way to inflate the tires. Mini-pumps are designed to add air to your bike tires and get your puncture fixed and back on the trail in no time.
While bigger pumps are bulkier and heavier, they are known for their speed and ease of use. Remember, the smaller the pump is, the more difficult it will be to inflate the tire. So if you are in search of a tool that will allow you to pump up your tire faster, opt for a slightly bigger pump.  Topeak Race Rocket MT, Lezyne Alloy Drive, and Crankbrothers Sterling L are great options for mini-pumps.
Spare Inner Tube
Image Source: www.tvorbawebu.info
Patching a tube isn't hard. But when you're out on a bike ride, some of you have may have a hard time finding the hole in the tube. As such, it is probably best to replace the tube and then patch the damaged one at home.
Carrying a spare tube is a must, especially during long bike rides. Inner tubes come in a range of sizes. Make sure that you choose one that is the right size for your bike. If you're not sure what size your tires are, try checking your tire sidewalls. Here, you will find markings like "29×1.9". The first number is indicative of the wheel circumference; while the second number refers to the width of the tire. Also, choose the lightweight version to save weight and space.
Tire Lever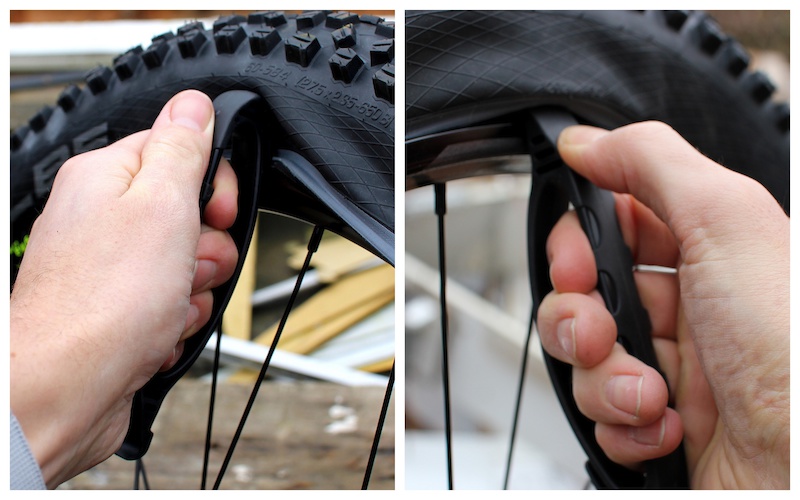 Image Source:www.pinkbike.com
The tire lever is a toolbox essential that is commonly used by most cyclists.  Unfortunately, it is one of the most overlooked of all the essentials on the list. In fact, most cyclists haven't even considered buying one, until such time when a thorn gets the better of their casing or when a rock meets the rim.
Nothing is more frustrating than getting a flat during a long bike ride. You may have all the necessary equipment to fix the flat until your tire lever snaps into two. Frustrating, isn't it?  Don't just settle for the one you picked up as a freebie. Rather, invest in a good quality tool.
The Park Tools TL4, Crank Brothers Speedier Lever, and Continental MTB Levers are our top picks for this category.
Emergency Patch Kit
Image Source: www.madelkcycles.com
Some of you are probably wondering why we included a patch kit on the list when you already have a spare tube. Isn't that kind of redundant? It's not. In fact, it is a necessity.
Unless you've embraced tubeless-tire technology, you are likely to experience a flat tire at some point. Sometimes, it doesn't only happen once. It may happen twice, three times or more. If it does happen, you'd be glad to have both the tube and the patch kit on hand.
Having an emergency patch kit is also beneficial if you're riding with a group. After all, when you're a part of a group, you're not just looking out for yourself, right? Patch kits are compact, lightweight, and would only take up very little room in your pack. Do not hesitate to carry these cycling essentials with you.
No products found.