Life in the big city is fun, exciting and fast-paced. Cities buzz with energy. Social clubs are everywhere. The skyline is stunning. Dining options are endless. However, living in the city means living in smaller apartments.
We all know how frustrating it can be to find a storage space for your mountain bike. For those who live in behemoth homes, this won't be a problem. They have the option to park their mountain bike in the basement or the garage. But if you live in an apartment, you have no choice but to store your mountain bike indoors. To do that, you'll need to get creative and find that perfect spot in your humble abode to store your mountain bike.
Here, we have compiled some innovative solutions on how to store mountain bikes indoors. With these bike storage ideas, you'll be able to free up some space in your home and showcase your steeds in style.
Branchline Bike Rack
Image Source:www.hiconsumption.com
This bike storage idea is perfect for those of you who own more than 1 bike. The Branchline bike rack works well in tight spaces and is designed to hold 2 bikes. Each and every frame leans against the wall and features 2 completely adjustable set of arms that allow you to hang up to 2 bikes in your living room. The arm supports are finished in leather so as to protect the bike frame from scratches. This gorgeous wooden bike storage is made from sustainably sourced bamboo.
Bedford Ave Bike Rack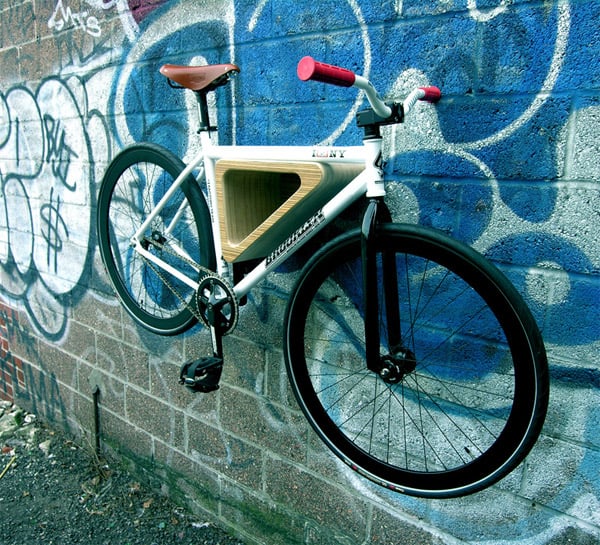 Image Source:www.theawesomer.com
If you are in search of a bike storage idea that wouldn't take up any of your apartment's limited space, look no further. The Bedford Ave Bike Rack will take up zero space in your apartment. Not only that, it also doubles as a piece of art. It will spruce up any living space nicely.
Each bike rack is custom-made to your bike frame. It is fitted to your bike's dimensions. This bike rack is available in wide variety of colors, so you can order one that matches your home's interior.
Floaterhoist
Image Source:www.red-dot-21.com
Unlike most vertical bike storage devices on the list, the Floaterhoist allows you to hang your bike from your ceiling. It is made from self-locking ropes with a pulley system that is attached to the ceiling. This will literally take your bike out your way.
The Floaterhoist can hold a bike with up to 55 lbs and will fit frames from small to large. For city dwellers living in tight quarters, this would be a great way to store your mountain bike.
Bookbike Storage
If you enjoy both reading books and riding bike during your spare time, then the Bookbike storage would be a great option for you. The unit is divided into 2 sections – one section to hold your bike and one section to hold your belongings. It comes with shelving units that are enough to house your entire book collection, your bike gears or your personal belongings. This amazing piece of furniture also comes with adjustable hooks, so it can hold bikes of all sizes.
The Bookbike storage utilizes a vertical design, so you can showcase your prized bike at home while keeping your home organized and clutter-free.
Michelangelo Two-Bike Gravity Stand
Image Source:www.yourbrandreviews.com
One of the easiest ways to store your mountain bike in a small space is to hang it on the wall. But if you're a renter, then you're not allowed to put holes in the walls. In this case, we recommend getting the Michelangelo two-bike gravity stand. It is a simple, yet sleek solution for renters and homeowners alike.
As the name implies, this bike rack relies on gravity. Simply lean it against the wall and let gravity do its work. It is stable, easy to assemble and features easy to adjust arms. It can support 2 bikes with a maximum load of up to 80 lbs.
Pedal Pod
Image Source:www.tamasineosher.com
The pedal pod is ideal for bike owners who are looking to display their bike without taking up any floor space. For most bikers, their mountain bike is one of their most prized possessions so it deserves a place of honor.
End users with limited space will surely appreciate the pedal pod. Aside from being a practical bike storage idea, it also provides additional storage space for your bike kit and other essentials. Plus, it looks good that it can work as a standalone piece. The pedal pod is available in walnut veneer, solid walnut and solid oak. It is perfect for design conscious cyclists.
Final thoughts
Big city life is fun and exciting. But living in tight quarters, urban dwellers don't have enough storage space to accommodate all of their belongings. Bike enthusiasts, most especially, are faced with yet another challenge – where to store their mountain bikes. Now that we have shared with you some space-saving bike storage ideas, you will no longer be tripping over your bike on your way out the door.