Mountain bikes cost a lot of money. In fact, it's not uncommon to find high end mountain bikes that cost $10,000 and above. Unfortunately, the spending doesn't usually end there. Most bikers would take a look at their bikes, shake their head and feel something isn't right. They'd go for the upgrade in the hopes of improving their riding experience.
Mountain bike upgrades can significantly improve the appearance, performance and feel of your bike. However, not all upgrades are equal. Some would yield very small returns, while others will give you a significant benefit.
Here are some of the best mountain bike upgrades that will improve your bike's performance.
Brakes
Image Source:www.bikeradar.com
Not too long ago, bikers relied on rim brakes to bring their mountain bikes to a halt. They did function pretty well during those times. But considering how far mountain biking has progressed throughout the years, we don't think they'd be up to the task. The good news is that most modern bikes are equipped with disc brakes, which is a better choice in terms of safety, control and stopping power.
If you are in the market for new brakes, there are 2 types of disc brakes to choose from – mechanical and hydraulic. Mechanical disc brakes are easy to install since they operate on the same principle as V-brakes. If you're looking to upgrade an old bike, then you're probably familiar with a V-brake. This type of disc brake is popular among average mountain bikers since it is easy to replace. Hydraulic disc brakes, on the other hand, offers more control and power. Since they are closed off from the environment, dirt and debris won't enter the cylinder, hose or brake fluid.
Speed is nothing without control. The faster you go, the better your bakes should be. Being able to stop smoothly and quickly is of great importance.
Wheels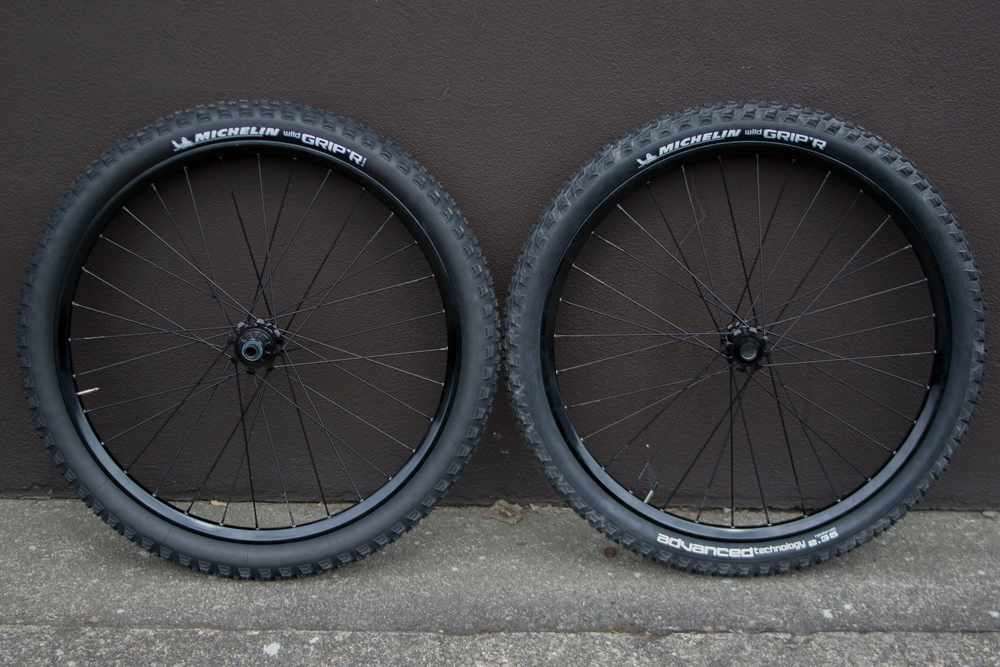 Image Source:www.freehubmag.com
The best upgrade you can make to any bike is the wheels. Once you've decided you wanted to upgrade, consider ditching your wheels and invest in a better quality wheelset. A new set of hoops will give you a speed advantage, improve acceleration and will lower rotational weight.
Given the range of options available, choosing your next set of wheels can be daunting. There are a number of things to consider when replacing or upgrading your mountain bike wheels – size, material, weight, strength and budget are just some of them.
If your style of riding is hard and aggressive, it is imperative that you find a set of trail wheels that can handle the rough stuff. Choose an enduro wheelset or a more robust trail wheels if you're a hardcharger. This will allow you to take your bike off drops without having to worry about broken spokes or bent rims. Invest in a lightweight, cross-country wheelset if you are looking to make your bike more agile and faster. Carbon fibre wheels are becoming increasingly popular with professional riders because they are substantially lighter and stiffer.
Tires
Image Source:guides.wiggle.co.uk
The tires that come with new bikes aren't of good quality. Quite often, in fact, they're awful. After all, this is an easy place for bike companies to cut cost and shave weight. Although they look similar to that of high-end tires, they are usually cheaper. Harder compound tires offer poor performance and less grip.
Changing your tires is undoubtedly one of the best ways to upgrade your mountain bike. It is a surefire way to improve your bike's performance without having to spend a huge sum of money.
The type of riding you do is one of the most important things to consider when buying new tires for your bike. For downhill riding, we recommend that you get tires that are capable of handling some abuse. For trail riding, you want a moderate level of speed, durability and traction. In this case, all-around tires are a great option. For cross-country riding, opt for tires that are smaller, lightweight and roll fast.
Saddle
Image Source:www.mbr.co.uk
Every component of the bike contributes to your riding experience. A comfortable saddle can mean the difference between a dream ride and a nightmare. If it's doing its job properly, then you'll be able to ride without pain. But if it isn't, then you'd think of it as an instrument of torture.
For most people, the saddle their bike was born with works just fine. But if your butt or crotch is hurting while you ride your bike, then it should be the first one to go.
Since it is your main contact point with the bike, choosing the right seat is of great importance. Material used, shape, and width of the seat all contributes to its comfort. For long distance riders, traditional leather saddles would be a great option. For women bikers, consider getting wider seats with pressure.
There is no point in spending a huge sum of money if you don't feel confident and comfortable in your bike. To make the ride more enjoyable, we recommend that you find a comfortable saddle and adjust it to the right. This will make a big improvement to your riding.
Final thoughts
Now that you finally bought your dream bike, you're probably can't wait to go off the road and roll through forest trails. Some of you are probably looking to upgrade.
There is no denying that mountain bike upgrades can make a big difference to your riding experience. Given the price of most mountain bikes, you may not have enough cash left for the upgrades. The good news is that you can radically improve your mountain bike performance without spending a lot of money. The key is to choose upgrades that will give you significant benefit for very little investment.