When it comes to riding in the United States, you are spoilt for choices. There are a lot of amazing bike destinations in the country, and you might want to visit some of the best mountain bike towns this summer.
Whether you choose a steep climb that finishes with a flying descent or opt for a buttery-smooth track void of technical elements, finding a flawless mountain biking trail in the country isn't really that difficult. These bike friendly destinations are considered as some of the best mountain bike towns in the country.
Here are 6 of the best mountain bike towns in the USA that you cannot afford to miss. These spots are some of the best prospects for a mountain bike adventure.
Brevard, North Carolina
Image Source: www.pinkbike
Some of you might be surprised to learn that Brevard is categorized as one of the best mountain bike towns in the USA. Believe it or not, the trails around the Blue Ridge Mountains of western North Carolina are actually one of America's best kept secrets.
Whether you're looking for a singletrack that traverses long, narrow ridgelines, trails that cross 5,000 foot mountain peaks or trails that climb up steep mountainsides, you'll find it here in Western North Carolina.
Bend, Oregon
Image Source: www.visitbend.com
People come to Bend to ride a downhill bike park or some world-class singletrack. When you hop on a bike, you'll be welcomed with a plethora of mountain bike trail options. No one comes to Bend, Oregon and watches TV all day long in their hotel room.
Here, the trails cater to riders of all abilities – from kid and beginner-friendly cross-country to dirt-jumping and downhill mountain biking. There is so much epic dirt that even the most dedicated riders won't be able to finish them in a lifetime. Last time we've checked, Bend has over 280 miles of singletrack, and more being built every day. Being a mountain biker in Bend, one of the biggest challenges one would face is choosing which trail to ride. Mountain Bike Magazine named Bend, Oregon as the best mountain bike town in America.
Harrisonburg, Virginia
Image Source: www.tabarinc.com
Harrisonburg boasts of a diverse mix of challenging mountain bike courses, winding single tracks, bike-friendly city streets, and peaceful country trails. This vibrant city is the cycling capital of the Shenandoah Valley. It is the perfect getaway for heart-pumping adventure.
If flow is what you're after, look no further than the Spruce Knob or Southern Traverse. For downhill flow trails, you may ride the lift at the Gravity Logic. If you're looking to introduce someone new to the sport, don't worry. Harrisonburg bike trails cater to everyone – from hardcore mountain bikers to novices. In fact, there are a few sections of beginner-friendly trail here and there.
Harrisonburg was named as one of the Best Mountain Bike Towns by the National Geographic Society. Because of its organized network that caters to everyone and its progressive trail-building philosophy, the International Mountain Bicycling Association designated the area a bronze-level ride center. We believe it's a well-earned title.
Park City, Utah
Image Source:www.visitparkcity.com
Park City offers some of the best technical single track in the world. If you like high altitude riding, then this would be the perfect spot for you. Nestling on the western edge of the Rocky Mountains, mountain bikers should prepare for an intense leg and glute-burning cardio.
Park City sits at 2,100 meters. The trails go at least 2,000 meters higher. Once you reach the top, you can enjoy the reward of riding downhill. But if it is enduro mountain biking you're after, you have the option to get a lift in different places and then race to the bottom.
This biking town isn't just for professional bikers. Bikers of all ages and skill level are welcome here. With the sheer quantity of trails, they offer something for every rider. Trail options include smooth flats or big climbs. All these are accessible from downtown. Park City is the only city named by the International Mountain Bicycling Association as a Gold Level Ride Center.
Moab, Utah
Image Source: www.singletracks.com
Moab, Utah is considered as one of the best mountain bike towns in the country. In case you didn't know, Moab is in the dessert. That means it can be brutally hot during the summer months. Some may feel discouraged to ride their bikes in the scorching heat, but one look at the local trail map and you won't ever want to leave.
This is the perfect destination for any outdoor enthusiast. In addition to hundreds of miles of trails, you'll find limitless climbing routes, elevation, and technical rock features. It is so good that Singletracks named it as the Mountain Biking Capital of the United States.
Boulder, Colorado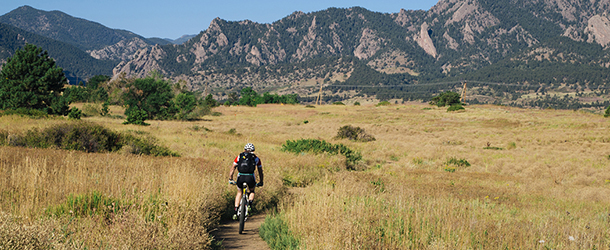 Image Source: www.bouldercoloradousa.com
Boulder is considered as the mecca for outdoor enthusiasts. Conveniently located at the base of the iconic Flatirons, Boulder is known for its abundant outdoor activities like biking, climbing, running, and hiking.
This is one of the best places in the world to be in if you own a bike. This is a great place to explore new places in two wheels. Boulder has a lot of great cycling routes. Many triathletes and professional riders come to Boulder to train. The sheer amount of ground you can cover on a bike is astounding, not to mention the beautiful scenery that is so distinct to the foothills.
If you're looking for steep climb, try the Betasso Link. But if you're not up for this type of trail, don't worry, Boulder has a bounty of lower elevation trails that you can ride throughout the year. With more than 300 days of sunshine, breathtaking views and challenging trails, we're not surprised why Boulder is considered as one of the best mountain bike towns in the country.