While we all want to think that we were born ready to ride, we were all newbies once. Chances are, you've committed some cycling mistakes at some point. Mistakes are how we learn and improve ourselves, but some of these errors can lead to accidents and injuries.
Before you make any more errors, we encourage you to check out our list of some of the most common cycling mistakes most rookie riders make. Hopefully, this blog post will help you avoid falling into the trap other cyclist have fallen into.
Avoiding these mistakes can go a long way towards making your bike rides safer and more enjoyable. Here are 6 beginner cycling mistakes you need to steer clear of.
Bad bike fitting
Image Source: www.freespeed.co
Buying a bike is not as easy as visiting a local bikes shop and then choosing the one that catches your attention and fits your budget. If you are considering getting a bike, then you'll benefit greatly from a professional bike fit. It is one of the most important steps you shouldn't skip.
Bikes come in different sizes and shapes. However, cyclists do not. Some people have long legs, while others have shorter legs. Getting the right fit will allow you to become more comfortable on the saddle, enjoy cycling, and enhance your performance. Improper bike fit may cause shoulder discomfort, lower back pain, knee pain, numb hands or toes or any other aches and pains after riding your bike.
Never underestimate the importance of bike fitting, especially if you're serious about delving into mountain biking. It's one of those cycling mistakes you may end up regretting later on.
Not wearing a helmet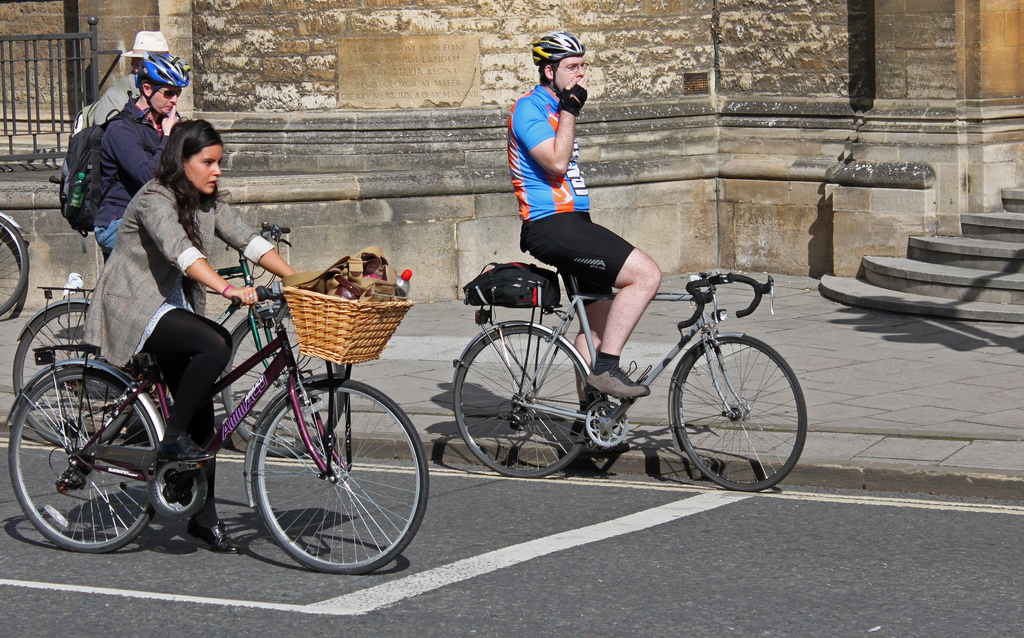 Image Source:www.momentummag.com
Cycling is a lot of fun, but it can also be dangerous. In fact, most cyclists have experienced crashing or falling at some point. Head injuries are common, particularly when cyclists crash at high speeds.  In fact, studies suggest that 75% of bike-related mortality is due to head injuries. Wearing a helmet goes a long way in protecting cyclists from serious head injuries. Unfortunately, this is one of the biggest mistakes most amateur bikers make.
Your head is one of the most vulnerable parts of your body. A helmet will protect your head in case of a crash, fall or any type of accident. Safety is of utmost importance when riding a bike. If you don't have a helmet yet, now would be the best time to get one. If you do have one, make sure that you wear it every time you ride the bike, even if it's just a short ride. It will save your life.
Poor bicycle maintenance
Image Source:www.mondocycling.com
Whether you're a casual or a professional cyclist, it is important to clean and maintain your ride. Not only will it help keep it looking like new, it can also help extend the life of your bike. But bike maintenance goes more than just keeping it clean. There are a lot of things that need to be done to keep it in good shape.
Aside from the usual cleaning, lubricating, and tire pressure checking, professional maintenance should also be a part of your maintenance routine. This will ensure a smooth, safe, and enjoyable ride. As a cyclist, you should know how to properly take care of your ride. Regular checks and proper maintenance can go a long way towards riding safely and avoiding costly repairs down the road.
Attempting a century ride too soon
Image Source: www.leadingwithtrust.com
Going on long bike rides with a bunch of friends is undoubtedly a lot of fun. Many of you are probably looking forward to spending countless hours in the saddle. To say you have ridden 1000 miles is such a great achievement, especially for someone who is just starting out. But as a beginner cyclist, it may not be a good idea to ride for that long – at least not yet.
As with any other types of physical activity, you need to ease into biking. Make realistic goals and make sure that it matches with your abilities. As a rookie rider, you should start small and then gradually increase the lengths of your ride over time. If you usually ride 2 hours on weekends, try adding about 30 minutes to each ride. You will also need to undergo endurance training before you can successfully ride a century ride. Never attempt a long bike ride without proper training.
Not carrying bike tools
Image Source: www.superbbicycle.com
You have a bike and you recently bought a helmet. You also have your cycling gear ready. Now, you're ready to go out on an adventure, right? Not really. While biking is all about having fun, you also need to plan for the worst case scenario. You may have all the essential tools at home, but you need to take some with you when you hit the road. This way, you'll be able to tackle some issues in case of an emergency. Come to think of it. If you get a flat tire, how are you going to fix it?
You don't need to take a lot of tools with you. You just need to pack the right tools. Spare tire, Allen wrenches, tire levers, spare inner tube, mini pump, and a tire patch kit are the tools you should include in your emergency toolkit.
Doubling up
Image Source: https://www.pinterest.com
Cycling shorts can enhance your riding comfort. If you've been experiencing any discomfort in the saddle, we suggest that you invest in a good pair of cycling or bib shorts.
Most cyclists are aware of how a pair of cycling or bib shorts can improve their ride. However, not all of them know how to properly wear them. One of the biggest cycling mistakes rookie riders make is wearing underwear under the bib shorts.
Bib shorts are designed to be worn without underwear. These shorts use fabrics that wick sweat away from your body. They also have pads that can help prevent chafing. Wearing cotton underwear beneath it will negate all the benefits provided. Go commando under the bike shorts.