Before this goes all professional and salesy, let's start with a bit of frank conversation. The category 'Mountain biking equipment' includes the mountain bike shorts. Especially for beginners, they matter as much or more than the bike you choose. Don't skimp. In case that's not clear: Do not skimp on your mountain bike shorts.
Padding
Yes. Padded mountain bike shorts will make you look like you're wearing a diaper. Not sexy. On the other hand, limping around with saddle soreness or walking bowlegged to keep your chafed thighs from rubbing together isn't sexy either. You'll look sexy enough in your camp shorts. In fact, if you ride any distance, you'll look as hard and tight as can be. Keep that in mind for every day, but particularly for Valentine's Day and Christmas
Also, even if you spring for the nice, scrunchy, padded mountain bike shorts, there's about a 99.9% chance that you'll experience some saddle soreness for the first few rides anyway. Take heart, though, it usually goes away after a few rides. Translation: Don't make that grand 100-mile trek with your significant other your first trip. Those bruises may heal, but they hurt. A '3D' chamois will be thicker and feels more layered than a cheaper 2D version.
Bib Shorts/Liners
The old kid's bikes came with a rear mud catcher. It wasn't just for show. Build up some speed in wet weather and you'll soon remember what it was for. Mountain biking comes with too much rough and tumble for them, so expect to get plenty of spray up your back and down the canyon lands. A jersey helps. Bib shorts help even more. Unfortunately, most manufacturers design bibs with a man's roadside bladder drainage needs in mind. Consequently, only one makes the list of best mountain bike shorts, and it's not perfect.
Outerwear
Trails don't come manicured. Brush hurts. Even if that were not true, we all fall and crash sometimes. Outer shorts are a good choice, especially when you're starting out. Consider knee and elbow pads, too.
Men's Wear Isn't for Women
Last, a bit of the obvious. Women shorts ain't the same as men shorts 'because women aren't the same as men'. Men use different saddles too, though you'll find that it's easier for you to ride a men's saddle than for him to ride yours. By contrast, he might look a bit baggy in women's shorts, but he'll be more comfortable in yours than you will be in his hip crushers. Women's chamois's are also both slightly wider and shorter than men's. If you're thinking that longer should be better, sorry. The longer chamois in men's shorts makes us slip around in the saddle and increases friction burns and chafing. Ouch. Cross your fingers that there's an experienced female cyclist at ye olde bike shoppe. Not that the men don't know anything, but bike shop men seem even more introverted and uncommunicative than usual.
Summarizing so far:
• Liner — yes. Chafing is the worst.
• Padding — yes. At least until you get used to it.
• Bib shorts/liners — Nice garments/limited choice
• Outer shorts — Definite yes.
Here, in no particular order, are seven products we like. Note the caveats for each one.
1. Club Ride's Quick Drop Bib
Image Source:www.mbaction.com
Unfortunately, women shorts aren't made for easy answers to our calls of nature. Designed specifically to meet women's elimination needs on the trail, the Quick Drop Bib from Club Ride uses backside zippers so women can deal with nature without disrobing. It comes with a triple density chamois pad that has been 3D-molded for women. Club Ride rates it as comfortable for at least four hours of cycling. Keep in mind that what starts as four hours will underperform that the more times you wash and wear it. The zippers do the job, but to some extent they decrease the benefit to wearing a bib. Best bet for the modest.
2. Sombrio Women's Drift Shorts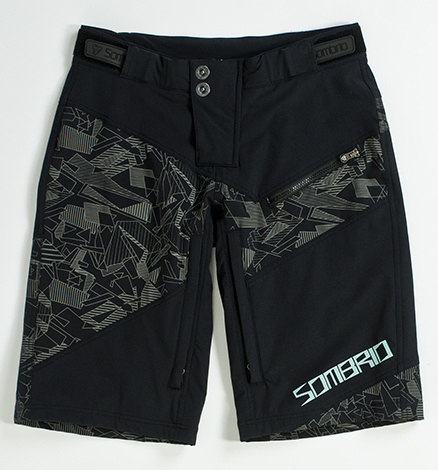 Image Source:www.pinkbike.com
Water resistant with a seamless crotch panel, hook and look waist adjustment, and a soft brushed lining, the Sombrio women's drift shorts help decrease saddle irritation. The four-way stretch fabric accommodates free movement. That makes a big difference in tight situations and emergencies. Sombrio makes tough, durable shorts that survive spills. They come with zippered pockets to protect your trail gear. Water resistant fabrics retain heat, so a lightweight liner may help reduce chafing.
3. Pearl Izumi Liner Short
Image Source:www.compressiondesign.com
Speaking of lightweight liners, it's hard to go wrong with Pearl Izumi. Still, while they claim that you can wear any baggy shorts over this liner to make a comfortable trail combination, remember to reread the advice about padding. This inexpensive liner comes with a 3D chamois that wicks and evaporates moisture to reduce chafing and irritation, as well as, a comfortable design to avoid cutting off your blood circulation. While they say that it's good for logging serious trail miles, when you're starting out, you may find that that means fifteen miles on a smooth trail and with chamois cream.
4. ZOIC Women's Premium Liner Shorts
For a step up from the Pearl Izumi liner short, consider the premium liner short from ZOIC. It comes with a 3D-molded Veloce chamois. That's a fancy way of saying anatomically molded, breathable, antibacterial, memory foam. That is, technically speaking we shouldn't even call it chamois anymore. For reference, the spec for the standard Veloce chamois for women calls for 1-4 hours of riding for women weighing up to 200 pounds.
5. Gore Bike Wear Inner Lady Pro+Women's Tights
Like the designers at Club Ride, those at Gore Bike Wear think. In this case, it's not strictly necessary for the chamois to be integrated with the tights. Gore makes them separate, so you don't have to choose between dirty shorts and a dirty liner out on the trail. A possible downside: Gore pairs the waistband loops on their liners to their baggy shorts.
6. Gore Bike Wear Countdown 2.0 Plus Women's Shorts
Image Source:www.sportsister.com
Not that Gore Bike Wear makes bad shorts, by the way. We like them for their all-purpose design, thoughtful fit, and easy wear. Still, you should be aware that 'all-purpose' means that they're not the best choice for any specific purpose.
7. Pearl Izumi Journey Short
The Journey short comes with its own detachable liner and their 3D chamois. They're light, durable polyester. They dry quickly. The mesh side panels improve ventilation. Perfect for warm weather wear interspersed with vigorous trail riding. A favorite. Keep in mind that these shorts are short. They're not going to be great for heavy brush or rocky rides.