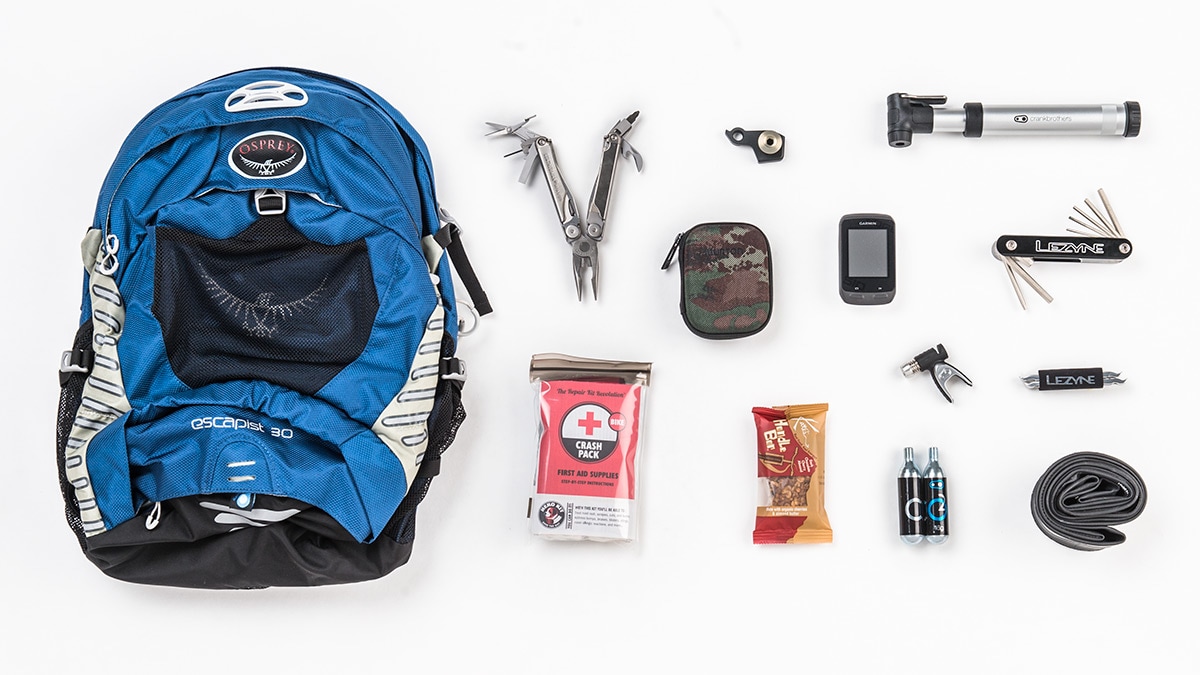 Image Source:
www.backcountry.com
Biking is a great sport for getting out in the fresh air and sunshine. The activity is also a great way to get fit or stay in shape. As long as you have the bike along with the essentials, biking can cost nothing and leave no carbon footprint on the planet. Whether going on a short ride or a cross-country adventure, there are a number of things that you should not leave home without on your next bike ride.
1) Helmet
No one plans on falling down or becoming the victim of an accident or collision. For these possibilities, a helmet is an essential safety measure. Wearing a helmet may seem like a hassle but in all hindsight it  can save you from a bad head injury. Many parks and nature preserves also make helmets mandatory for bikers.
2) Water
Physical activity commonly causes perspiration. Prevent your body from dehydrating on your next bike ride by rehydrating from time to time. A lack of adequate fluid intake can also make you tire more quickly. Consider a water bladder to carry on your back or a water bottle fastened to the bike's frame.
3) Patch/Spare Tubes
Image Source:www.bikeradar.com
If planning on riding for more than one mile, take a patch kit and at least one spare inner tube. Being able to make a quick fix beats having to walk beside your bike for a few miles. Bring two tubes for rugged mountain bike excursions. Rapid descents, rocky gardens and jumps can quickly put a hurt on one or both wheels. Be prepared. Other parts that are handy to have in your repair arsenal include:
• A spare spoke and nipple
• A spare chain ring bolt
• An extra master link
• An additional derailleur hanger
4) Air Pump
There is no point in repairing a tire if you cannot reinflate the flat. Many compact versions are available. However, not all have the advantage of containing valves that provide air when pushing and pulling the pump.
5) Versatile Bike Tool
Image Source:www.bicycling.com
All inclusive bike tool kits come with Allen wrenches, a chain tool, tire levers, a flat and a Phillips head screwdriver. Some additionally feature pliers and a wire cutter. The kits are generally available where bikes are sold and are often packaged to conveniently attach to the bike frame.
6) Snacks
Regardless of how long you plan to ride, it is typically a good idea to take a couple of snacks. Take a break and replenish with a snack and some water to re-energize for the journey. Candy bars with nuts, protein bars, trail mix or nuts are all good choices.
7) Emergency Kit
Create or buy a small first aid kit in preparation of the unexpected. At the very least, the kit should contain a couple of adhesive bandages, disinfectant wipes, gauze and tweezers. Even more equipped kits are small enough to carry in a backpack or saddle bag.
8) Cell Phone
Image Source:www.bikeradar.com
There are a number of good reasons to remember to take your phone on the next bike ride. In addition to having the ability to contact someone in case of an emergency, phones come in handy when equipped with GPS and current weather apps. Built-in flashlights become a godsend if out after dark. The camera is also great to have when viewing spectacular landscapes or if lucky enough to encounter wildlife.
9) Rain Gear
Image Source:www.bikeradar.com
Many claim that rain gear seems to coincide with Murphy's Law. If you do not take it, you are likely to get caught in a downpour. Pack the gear, and you will not need it. But in a pinch, even a simple rain poncho makes a great windbreak or a quick makeshift shelter if stuck out in the wilderness. Gore-Tex and similar versions feature gear that is both lightweight and enables air circulation, which cuts down on the perspiration.
10) Lock
There are many different types and prices of locks. However, there are only a few ways to properly secure your bike. You never know when you might want to stop and grab a beverage or a snack. Ensure your bike stays where you parked it by never leaving home without your lock.